Plovák JP Ultimate Wave Pro
Kód:
15867/94
15867/102
Zvolte variantu
Doprava zdarma
Při nákupu nad 2000,- Kč
Kamenná prodejna v Praze
Od Roku 2005 stále na stejné adrese
Komplexní servis a poradenství
Pokud si nevíte rady, jsme tu pro vás.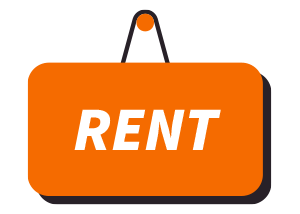 Půjčovna
Možnost zapůjčení a otestování zboží
Rychlé doručení
Expedujeme do 24 hodin.
Obrovský výběr sortimentu
Velké skladové zásoby
Detailní popis produktu
ULTIMATE WAVE
wave / freestyle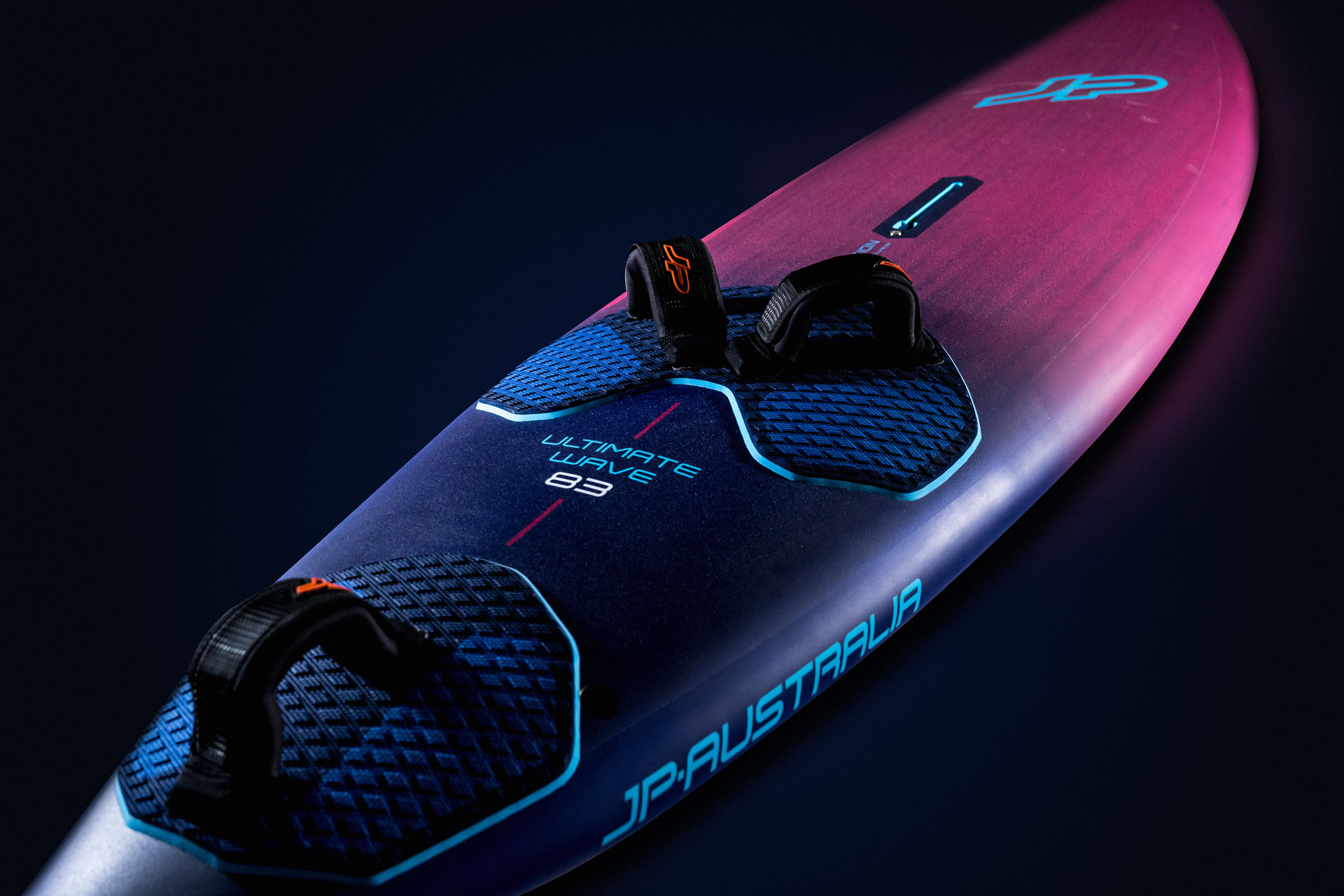 This board feels at home at every wave spot in any given conditions. It carves fast, turns smoothly and maintains speed anywhere from huge down-the-line waves to mushy onshore rollers. It responds instantly to rider input and changes from rail to rail comfortably and extremely quickly. The grip and rail bite will give you the confidence to push your personal limits when carving turns on anything from medium to XXL waves. It will reward progressive sailing with turns that you used to only dream about. This is the ultimate wave board!
After 4 years of development, the Ultimate Wave was introduced to the JP range as a successor to the popular Radical Thruster Quad. Its speed, early planing and manoeuvrability made sure it improved on the Radical Thruster Quad in all aspects of wave sailing everywhere from side-on mush to down-the-line perfection.
For 2022, the shape and the features of the board remain unchanged except for new Carbon side fins which are light, more durable and improve responsiveness and speed.
Double foot-strap holes eliminate any chance of the straps twisting, thus ensuring firm and comfortable grip of the feet in the straps.
The foot straps feature measurement markings to allow you to quickly set up your board to your perfect foot strap size.
The thick deck-pad increases comfort and cushions the landing of big jumps and aerials.
The result is a fine-tuned and brilliant wave board which feels at home in side-onshore conditions and absolutely excels in side-shore and down-the-line conditions.
Our pro riders tend to choose this board over any other model for PWA and IWT competitions with side-shore wave conditions. The boards perform at their best in all down-the-line locations. Morgan Noireaux won his third Aloha Classic title using the final prototype of the Ultimate Wave 83.
The success of the shape comes from the outline and bottom shape concept. The bottom features a flat V in the front, which transforms into a double concave in the middle, then into a deep single concave under the foot straps and tapers off with a gentle V right at the tail. This creates a flat scoop rocker line in the middle but keeps the curved one on the rail. The flat centre line delivers speed and planing power.
A thin rail shape throughout the board in combination with a soft tuck line makes the board slice through the wave face providing the grip and rail bite everybody is looking for.
The quad fin setup enhances top-end wave performance and the 5-fin box setup enables tuning to personal preferences (thruster, twinser and single fin use), giving the boards greater range of use from onshore to down-the-line conditions. Plugs are provided to cover the boxes not used.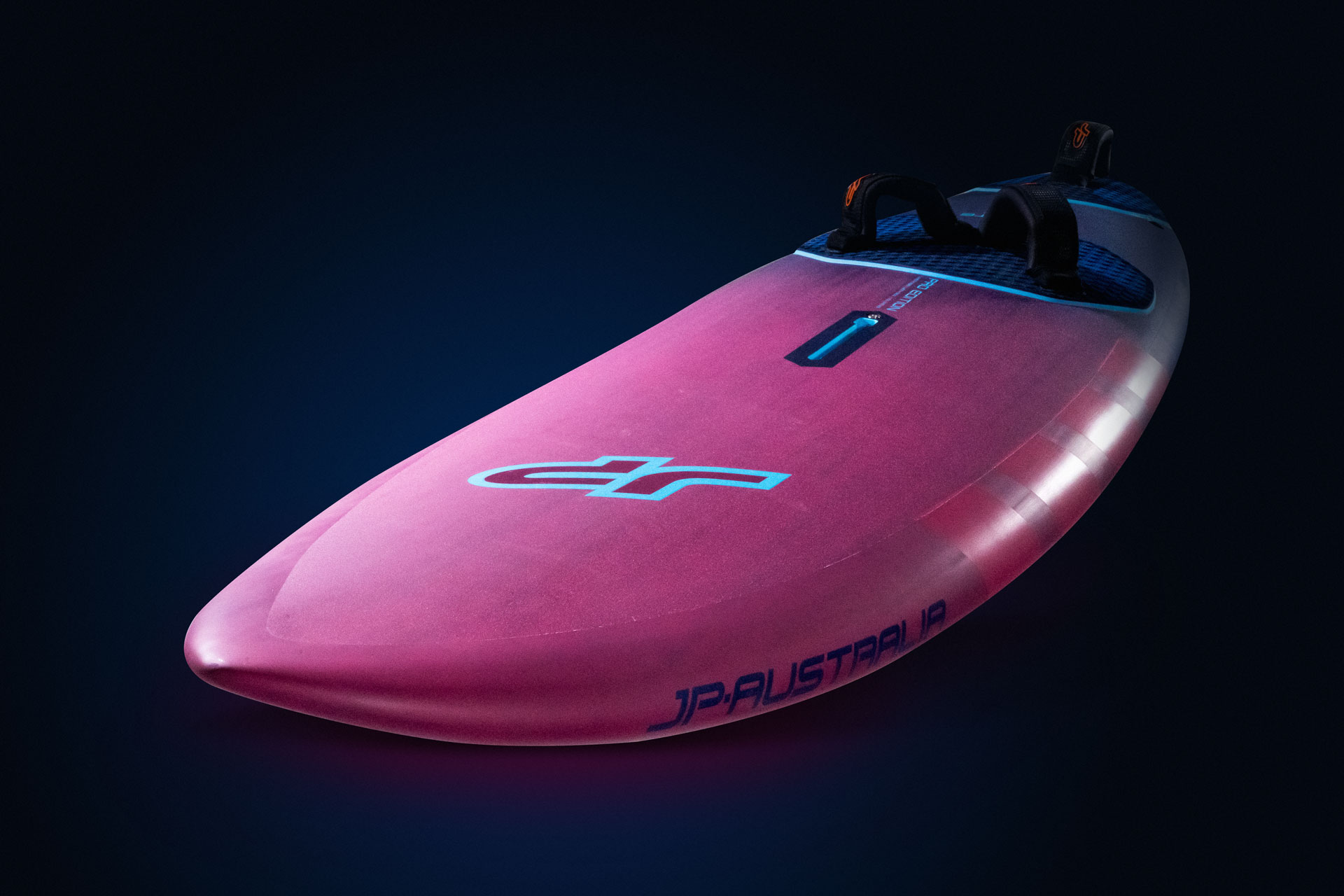 | | |
| --- | --- |
| 1. JP's most radical down-the-line wave board | 5. Great range of use thanks to five fin boxes |
| 2. Delivers instant response to rider's input | 6. High density sandwich and stringers made of recycled PET |
| 3. Ultimate rail grip on the wave | |
| 4. Comes with Quad Fin setup | |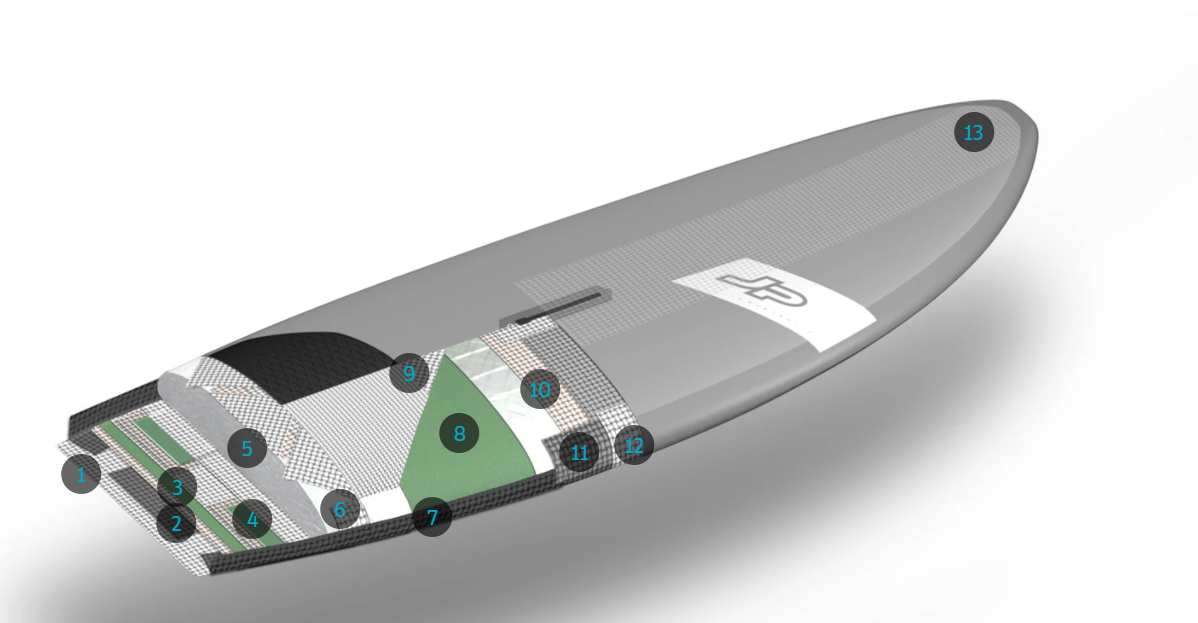 JP introduced this proven S-glass technology for wave boards back in 2014. High-quality glass (1,10), S Glass (2,7,11) and Biax Glass replace various carbon materials and combinations. This glass has a very high tensile strength and is less brittle than carbon. Thus, it is lighter, more durable and more forgiving than carbon: On the wave, riders prefer the smooth feel of these flexy board compared to stiff carbon models. It features PET-recycled high-density sandwich layers (3,8) in deck and bottom and Omega stringers (4) in the same sustainable material. Technology details are the full Innegra rail reinforcement (12), various stringers, the Parabolic Rail band (6) and a Quadraxial fibre construction (9) in the full standing area.
Wave PROs come with moulded carbon fin centre fins!
SPECIFICATIONS

ULTIMATE WAVE

Délka cm

Šířka cm

Litráž

Váha+/-6%
Kg

QUAD SETUP




(COME WITH BOARDS)

Fin box

Plachty

69

220

53

69

5.9

2x Multi Wave 13.0 [RTM] SB




+ 2x Side Fin 10 [RTM] MT

3xSB + 2xMT

ideal: <4.8




rec.:<5.0

75

220

55

75

6.1

2x Multi Wave 13.5 [RTM] SB




+ 2x Side Fin 10 [RTM] MT

3xSB + 2xMT

ideal: 4.0-5.0




rec.:<5.4

83

226

56.5

83

6.3

2x Multi Wave 14.5 [RTM] SB




+ 2x Side Fin 10 [RTM] MT

3xSB + 2xMT

ideal: 4.2-5.4




rec.:4.0-5.8

88

227

58

88

6.5

2x Multi Wave 14.5 [RTM] SB




+ 2x Side Fin 10 [RTM] MT

3xSB + 2xMT

ideal: 4.4-5.6




rec.:4.2-6.0

94

228

60.0

94

6.7

2x Multi Wave 15.5 [RTM] SB




+ 2x Side Fin 10 [RTM] MT

3xSB + 2xMT

ideal: 4.8-5.8




rec.:>4.7

102

229

62.0

102

6.9

2x Multi Wave 16.5 [RTM] SB




+ 2x Side Fin 10 [RTM] MT

3xSB + 2xMT

ideal: 5.4-6.2




rec.>5.0

RTM = Resin Transfer Molded

SB = Slot box

MT = Mini Tuttle box

Buďte první, kdo napíše příspěvek k této položce.
JP-Austrálie - založená legendárním australským windsurferem Jasonem Polakoffem v roce 1997. Společnost JP-Australia každoročně usiluje o dokonalost ve všech oblastech, přináší do svého sortimentu něco nového, zlepšuje produkty a přijímá stále větší škálu nadšenců vodních sportů.