Technologie surfboard RRD
PRO VERZE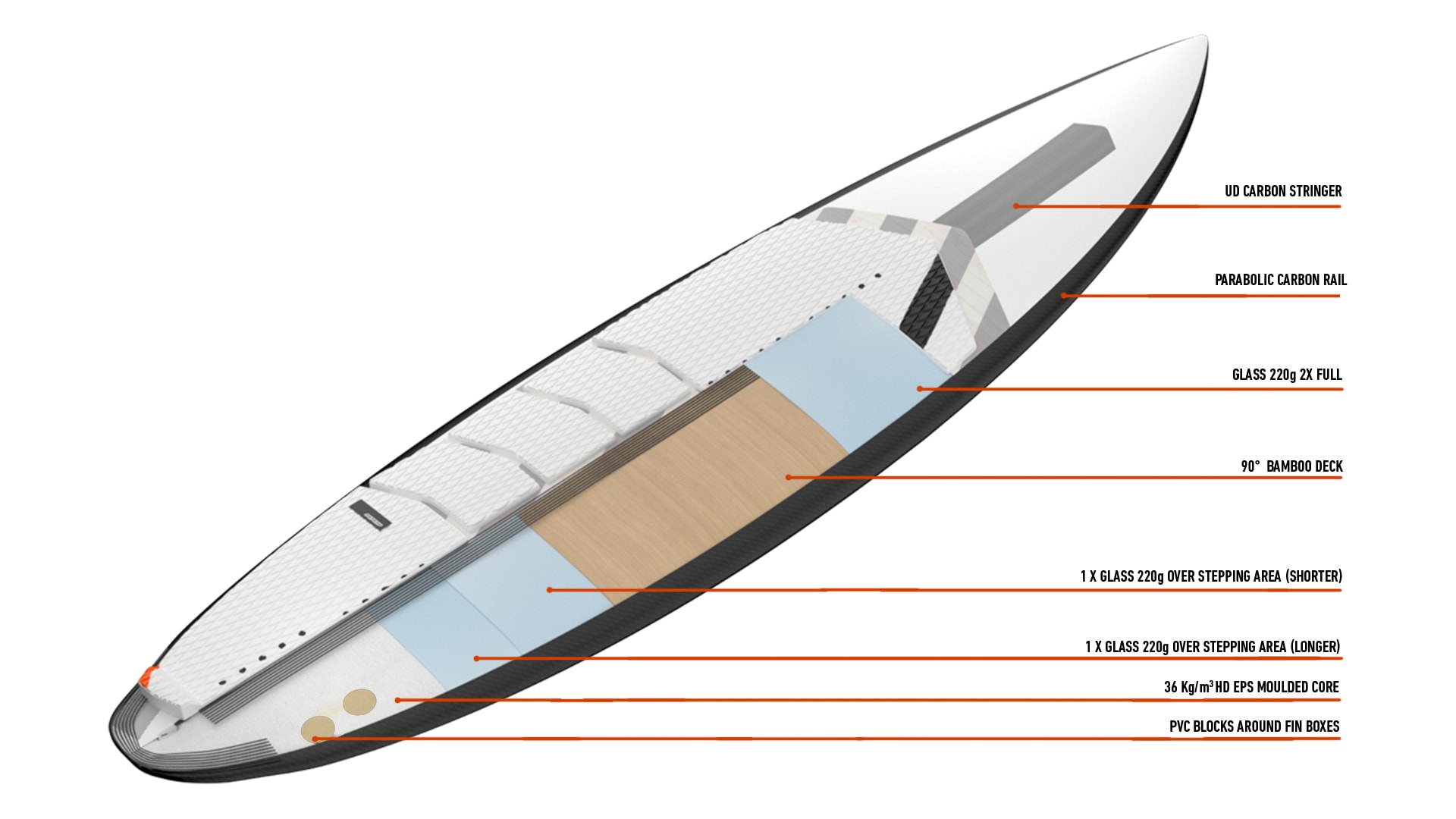 TRUST, COMFORT and PREDICTABILITY, 3 words to give you best feeling while riding.
Boards that may appear simple but which contain super technological secrets. High-tech products to ensure maximum durability, lightness and perfect flex for all types of conditions and rider. We completely revised the surfboard construction process, 27 years of know-how, after hundreds of boards produced and tested around the world. RRD is today the ONLY brand in the market to use hi density Moulded EPS cores on kitesurfboards. The new PRO line comes straight from the ultimate moulded surfboards technology which consists of a high definition EPS core, made with a high definition "Super EPS" mould, which is then injected with 36 Kgs/m3 density EPS beads. Using the EPS injection, through the use of steam with the right temperature and pressure to blow the polystyrene into the mold, the result is a perfect mono-block core 40% more resistant, compact and with perfect surface definition (no open cutout bits are showing on the outside) compared to a classic CNC shaped surf board core. The parabolic carbon rails create a board that has a progressive smooth flex and a strong shape memory. All this not only create an unbeatable technology mix abut also a very stylish, classy and slick look.
---
LTE VERZE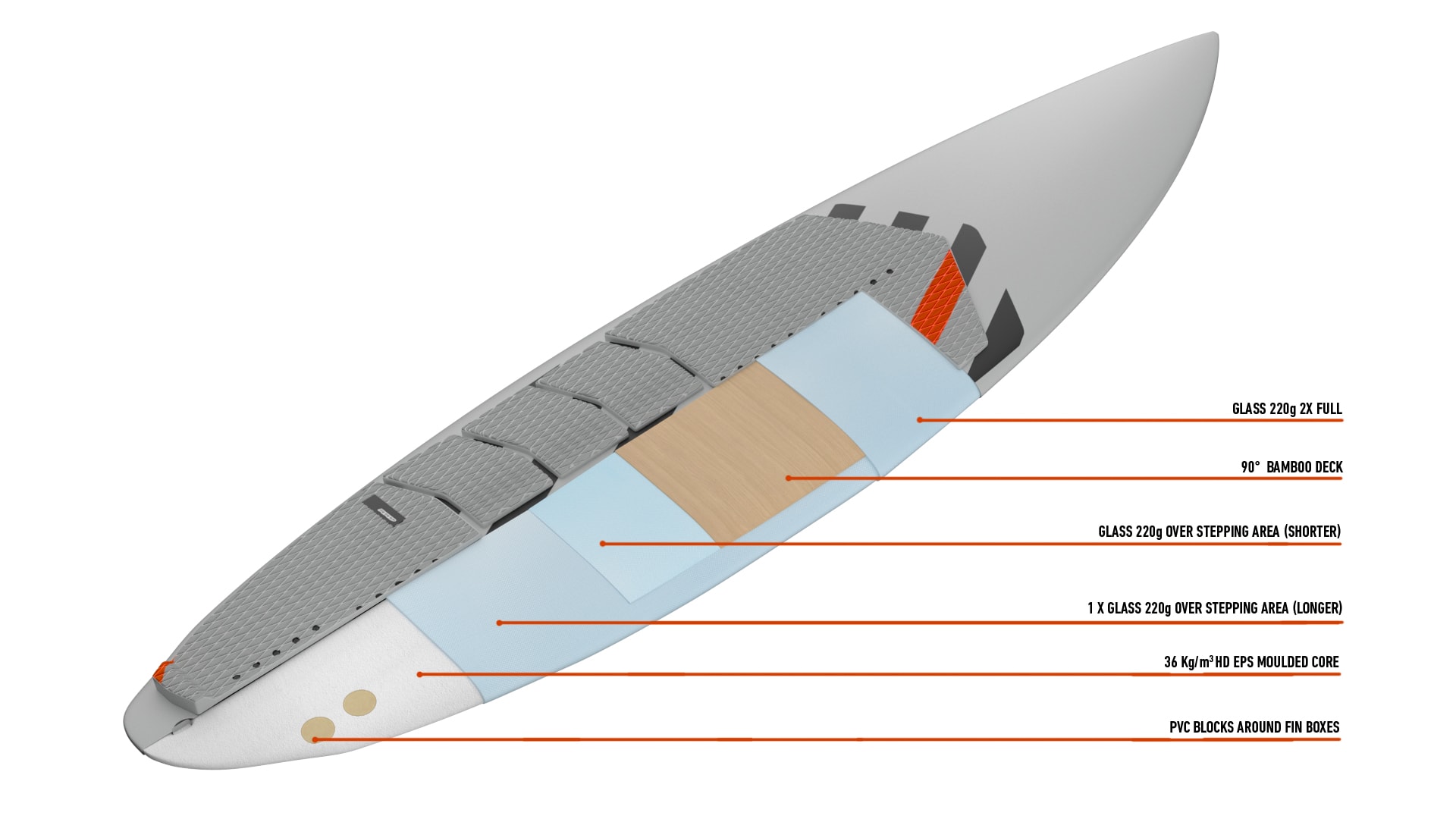 LIGHT, STRONG and DURABLE
The new LTE technology looks like simple but is one of the most sophisticated and innovative method of construction, it comes straight from the ultimate molded surfboards technology like the PRO technology. Consisting of a high definition EPS core, made with a EPS injection on a pre shaped mold, which is then injected with 36 Kgs/m3 density beads. This phenomenal core is so strong that you could ride it on the water without any lamination on it! The Full Glass and wood layup makes the board super flexible to ride and really strong to impacts. The painted matt finish provide resistance to ultraviolet degradation and an easy to repair surface.
---
JAKÝ TYP VLNOVKY ZVOLIT
BAT TAIL

In kiteboarding THIS is the best TAIL shape for FOR strapless tricks. The removed area and little corners add some bite while the remaining tail portion at the very end acts like a little fin, creating some extra directional feel. The design is optimal for jumps and sharp while still providing enough surface area to generate speed.

SWALLOW WINGER TAIL

The most prolific tail design of C.O.T.A.N. (cut of tail and nose) boards.
This shape increased surface area in the tail, improved stability and makes a little easier to ride in smaller surf condition.
This tail design leads to improved maneuverability while still maintaining surface area for speed. The wing tail is optimal to start to try some pop jump and why not some ''crazy horse'' trick.

ROUND PIN WINGER TAIL

If you're looking for the best possible traction and control when surfing, your choice will be a pin tail. This type of tail has the narrowest width of all your basic surfboard tail shapes. Because the tail's surface area is small, this allows the tail of the board to grab hold of the water, and maintain direction by tracking.
The pin tail shape is like an arrowhead, with two curved lines coming to a point. This design will give you good water flow over the tail of the board, allowing the tail to hold better, and avoiding any abrupt release that could knock you off your board.

SQUARE TAIL

The main thing the square tail, is allowing you to go for it, always giving you enough speed to concentrate on the section to hit.At the same time, because of this extra width in the tail, there is less curve when it comes to the outline. A square tail kite surfboard has marked corners which bite into the wave while you are turning and this helps to increase the board's ability to pivot and change direction.

SQUASH TAIL

If you want a board that's responsive, go for the squash tail because this will allow for quick release, letting you turn easier, and add lots of looseness to your top turns. This shape gives your tail more width, and hence more surface area. Once again, the wider surface area of the tail means you get more lift, and it is much easier to maintain a speed through every section.